"Charlotte – Thank you for being the best celebrant we could have asked for. From the beginning you were able to assist with the process, with writing our vows and tailored our ceremony for our needs perfectly. Living in Australia and getting married in New Zealand, you made the overseas wedding legalities effortless. The ceremony was incredible and your introduction before our vows captured our relationship perfectly. You are truly suited for your role and your excitement and passion for marrying couples is incredible."
Kate & Matthew – Rockhampton, Australia.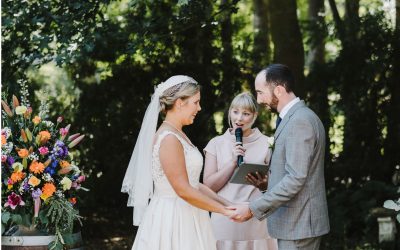 Paul and Beks garden wedding in Christchurch
read more
"Thank you Charlotte for assisting us in having the perfect, most romantic wedding day! We appreciated all your input and direction. We will be in touch in a few years when we are ready to renew our vows"
– Keeley & Baz x
"It was a wonderful day and Charlotte managed to write the perfect ceremony for us. We are so thankful to find a celebrant who related to us"
– Amy and Casey 
"We received so many compliments about the ceremony — and that wouldn't have been possible without you! Your youth and enthusiasm was the perfect fit for our relaxed garden ceremony."
– Holly and Mike x